By Poly
This is an excerpt from this weeks premium update from the The Financial Tap, which is dedicated to helping people learn to grow into successful investors by providing cycle research on multiple markets delivered twice weekly. Now offering monthly & quarterly subscriptions with 30 day refund. Promo code ZEN saves 10%.
Cycle Counts
| | | | | | |
| --- | --- | --- | --- | --- | --- |
| Cycle | Count | Observation | Probable Outlook | Cycle Clarity | Trend |
| Daily | Day 39 | Range 36-42 Days – 1st or 6th Daily Cycle (depends on IC) | Bearish | Green | Failed |
| Investor | Week 8 | Range 20-24 Weeks | Bearish | Green | Failed |
| 4Yr | Month 74 | Range 50-56 Months- 8th Investor Cycle. | Bearish | Green | Up |
This was not an orderly, and very far from typical, Daily or Investor Cycle sell-off. What this crash like move has created are massively wide Bollinger Bands and a new period of extreme volatility. The market has technically corrected (-10% price), but most corrections are a process and very rarely just five session affairs. Looking back over the decades, such events occur on average every two years within any healthy bull market. But in almost every case, the process involved a complex back and forth series of movements that ended with a significant clearing of sentiment and reset of long-term technical indicators.
Therefore, we should have entered a down-trending period that will be marked with frightening falls (vastly elevated risk), as well as the likelihood of massive counter-trend rallies. Just like in 2002/03, 2010, and 2011, I believe the markets have been broken wide open and we're in for a 2-3 month period of wild swings and elevated volatility.
In the short-term, losing 200 points in five sessions was just a matter of too much, too quickly. Because the S&P was already in the timing band for a DCL, we've likely witnessed the first big snap-back rally created by such a massive drop and are in the early portion of a new Daily Cycle. I'm expecting higher prices still before the market runs into serious trouble again, although with a period of high volatility dominating this market, do not expect it to be an easy ride in any given direction.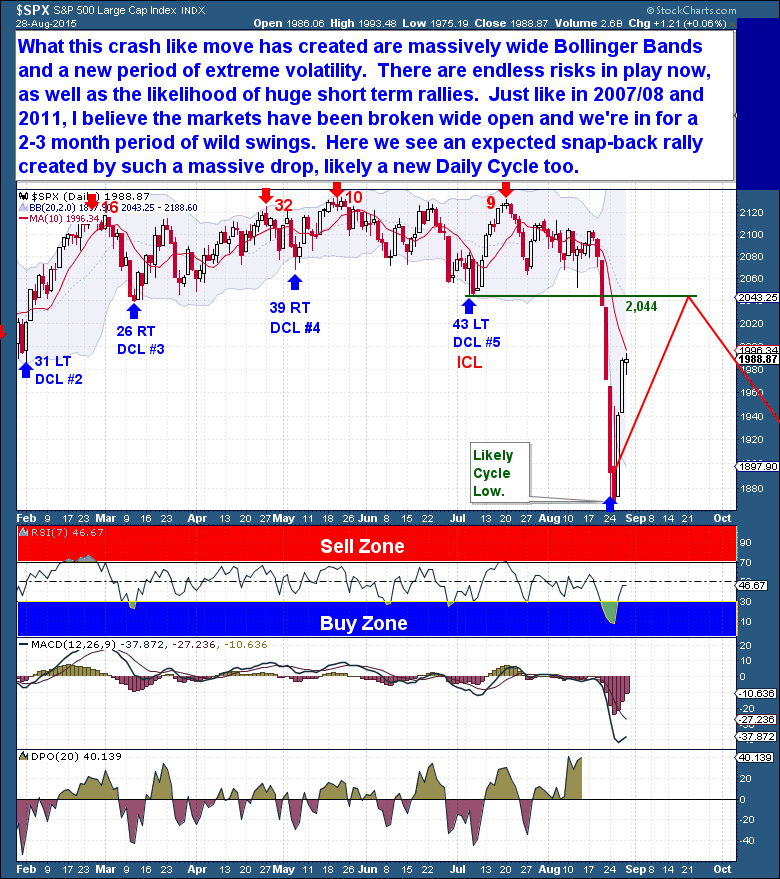 There is some disagreement on the longer term market direction and the possible duration of this unfolding correction. The Weekly Cycle count is not "crystal clear", meaning that where the last Investor Cycle Low occurred is not immediately obvious. Because this current correction can only end with the next Investor Cycle Low, there is some discussion on how much further this correction has to go.
A case could be made that this 10% plus correction is already the end of both an Investor and Yearly Cycle. If past Cycles are a guide, visually this looks very much like all the dips seen since 2011, all of which led to significant new bull market rallies. But that is not my primary expectation at this point. I believe, based on the technical evidence, that this is just week 8 of the current Investor Cycle.
I also see this market entering a more protracted correction because of the size and strength of the prior 4 year bull market. That rally was so massive and unbalanced that we should now see a comparable counter trend decline worthy of such a massive bull market move. And unlike past ICL's that were fast buy the dip opportunities, this correction has been months in the making. We're only now seeing some of the monthly moving averages crossover (bearish) and finally the 26 week moving average (see chart) is in decline. This is a normal market correction that should take 2 to 4 months to complete.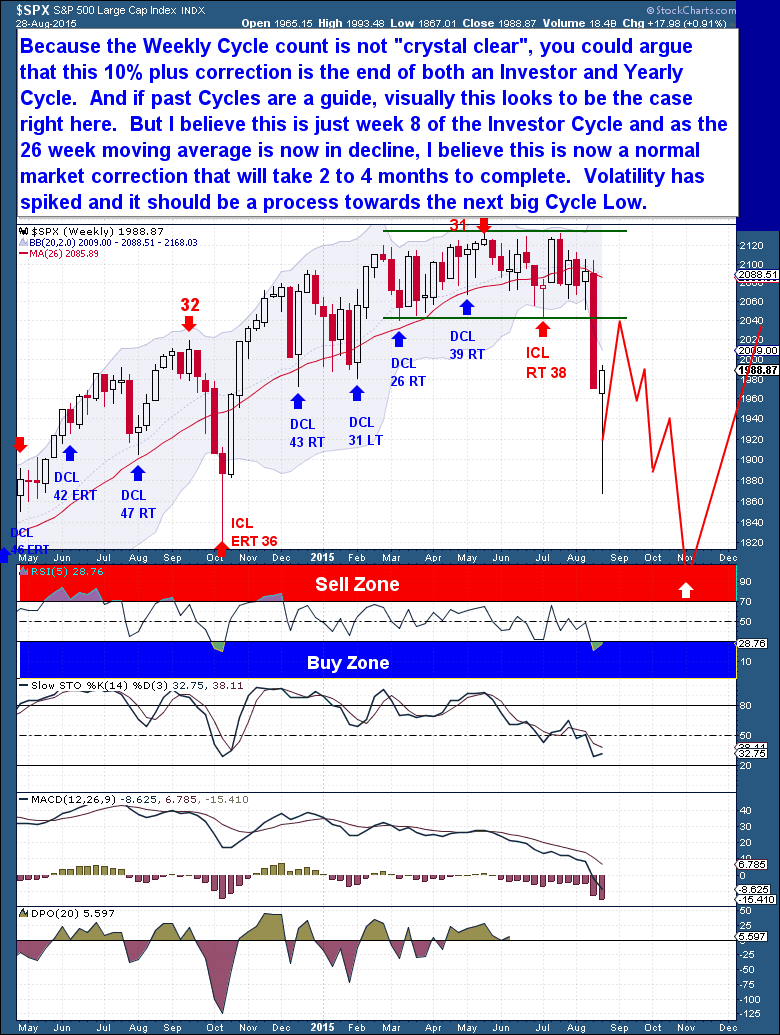 The markets are correcting for a few simple reasons. Firstly, the bull market advance had become far too extended and over-priced, so a correction is just a natural event in the ebb & flow process of the stock market Cycles. But further to that, we must not discount the FED's role throughout this bull market, having been so accommodative out of the Financial Crisis, we find that every time they attempted to remove the 'life support' from this market, a period of uncertainty and declines followed.
The chart below shows that once QE4 and the FED's tapering ended, the markets began to flat line. With talk of rate hikes becoming prominent of late, a turn lower in the markets is only highlighting that grossly over-priced and over-valued markets will become exposed to the natural market forces. As stated within last week's extended equity markets report, this correction could be deep enough to solicit yet another dovish FED policy response.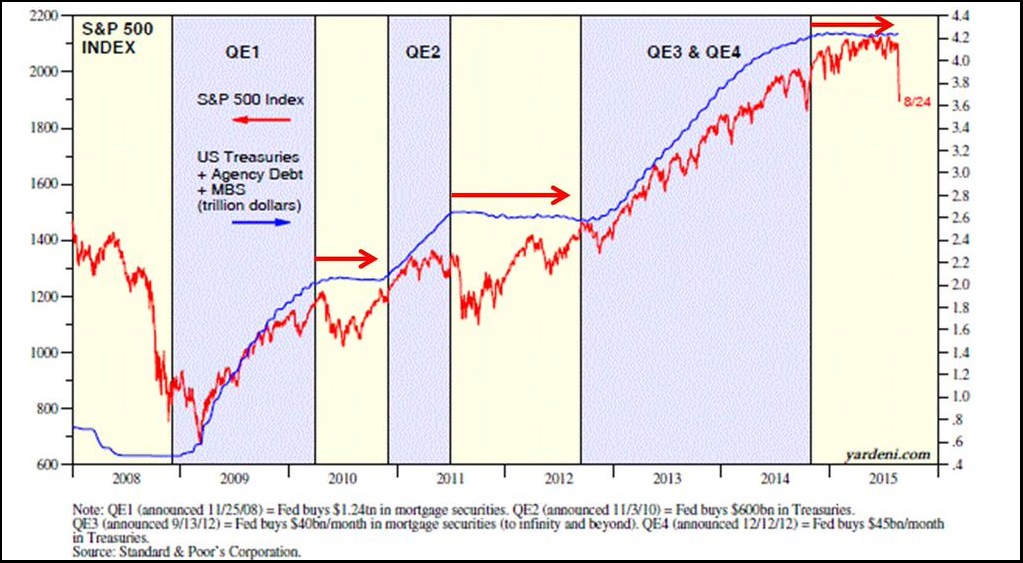 Leave a Reply
You must be logged in to post a comment.